Chemical Name: Poly-N-Acetyl-Glucosamine
Molecular Formula:
Molecular Weight: 203·n
CAS NO.: 1398-61-4
Customs commodity code: 29329990.99
Chemical Structure: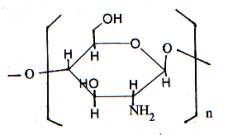 Characterize:
It is off-white solid, amorphous, translucent , non-harmful, odorless, non-pollution, non-corrosive, non-burnable, non-explosive, Soluble in contain 8% licl 2 methyl ethyl amide or strong acid, excluding water ,diluted acid, alcohol, or other organic solution, According with the export standard of WTO. This product is natural linear high-molecular polysaccharide extracted from the shrimp and crab shell. It can be used as food additives and raw materials for pharmacy.
Applications:
Chitin is a new biochemical medicine that has special biological function of falling blood fat, reducing blood press, antidiabetics. In industry, chitin can be used as textiles mouldproof sterilization deodorants.It also can be applied to dye, paper and water treatment, etc. In agriculture, chitin can be used as pesticides, plant antivirotic. In fishery, it is feed. And it can be usded in cosmetic beauty agent, hair protection, moisturizing factor etc. In medical supplies it can be used as contact lens, artificial skin, seam, artificial dialysis membrane and artificial blood vessels, etc.
Packaging :
Paper barrel (36cm x 36cm) lined with two layers polyethylene film bag,or according to customers' demands.
Outer size 36×36cm
Net weight: 10kgs
Gross Weight :11.8kgs.
Qty/1*20'ctnr: 5.4 tons
Storage and transport :
It should be stored in a dry, clean, and shady place. Light loading and unloading in transportation. Harmful, toxic and polluted goods shouldn't be mixed shipped. The rain is strictly prohibited.
Standard: (Comply with USP35)
quality standard -Industrial Grade
quality standard - Food grade
quality standard - Pharmaceutical grade
Off-White to Light Yellow Fibrillar
Off-White to Light Yellow Fibrillar
Off-White to Light Yellow Fibrillar
Water, Dilute Acid Solution, Organic Soivents: Insoluble
Water, Dilute Acid Solution, Organic Soivents: Insoluble
Water, Dilute Acid Solution, Organic Soivents: Insoluble